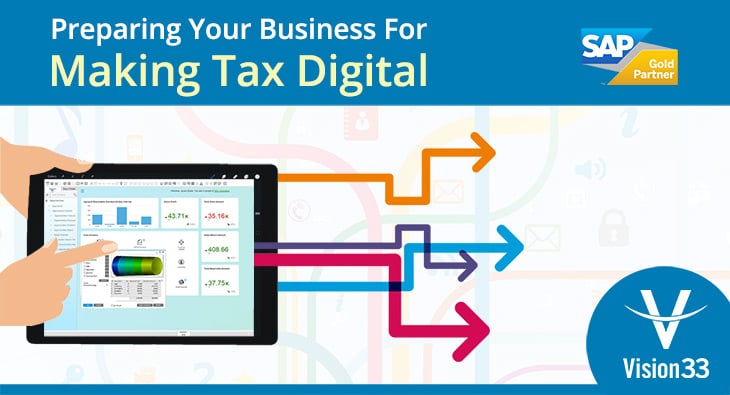 By now, you have definitely heard the phrase Making Tax Digital (MTD) and are likely busy preparing to move your tax records online. As of April 1st, 2019, VAT registered businesses with taxable turnover above the VAT threshold will be required to keep records in digital form and file their returns to HMRC using compatible software. Your business can't afford to be left behind. 
HMRC is transforming the way the tax system operates, and your business needs to follow suit. Knowing this can be a challenge for many growing companies in the UK, we have worked to develop a solution that leverages your SAP Business One investment.
The Vision33 Interconnect Digital Tax Solution provides a quick and easy way to address the HMRC requirements. Designed for fast implementation and minimal training, this solution allows you to easily pull your VAT returns directly from SAP Business One without the need to upgrade to the latest version.

Download Vision33's Interconnect Digital Tax Solution Brief and find out how you can easily manage HMRC regulations and prepare your business for Making Tax Digital. 
---
Schedule a Personalised Product Demonstration
If you'd like to know more about VIsion33's Interconnect Digital Tax Solution, complete the form to schedule a personalised demo with one of our local consultants near you.