Did you know that 70% of Vision33 customers move from accounting programs such as Sage 50 to an Enterprise Resource Planning (ERP) solution? That's a staggering number! But, why did so many make the switch?
Download this brief whitepaper to find out.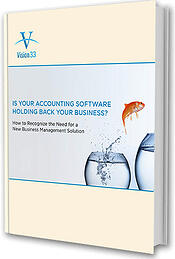 Recognising the need for a new business management solution isn't easy. Don't let your company get held back by your small business accounting program, download a copy today.
If you have any questions about moving to an ERP solution, please email contact@vision33.co.uk