Customer Portal is a web-based solution that gives customers, anywhere in the world, secure and personalised access to billing, quotes, orders, service calls and reports from any device (iPhone, iPad, Android, and more).

Complete the form to test drive Customer Portal.
Get a first hand look at what your customers would see. Use the login information provided on the screen and get instant access to experience the power of Customer Portal first-hand.
Place an order or create a quote with the click of a button. View billing, order and service call information and access detailed reports within the test version of Customer Portal.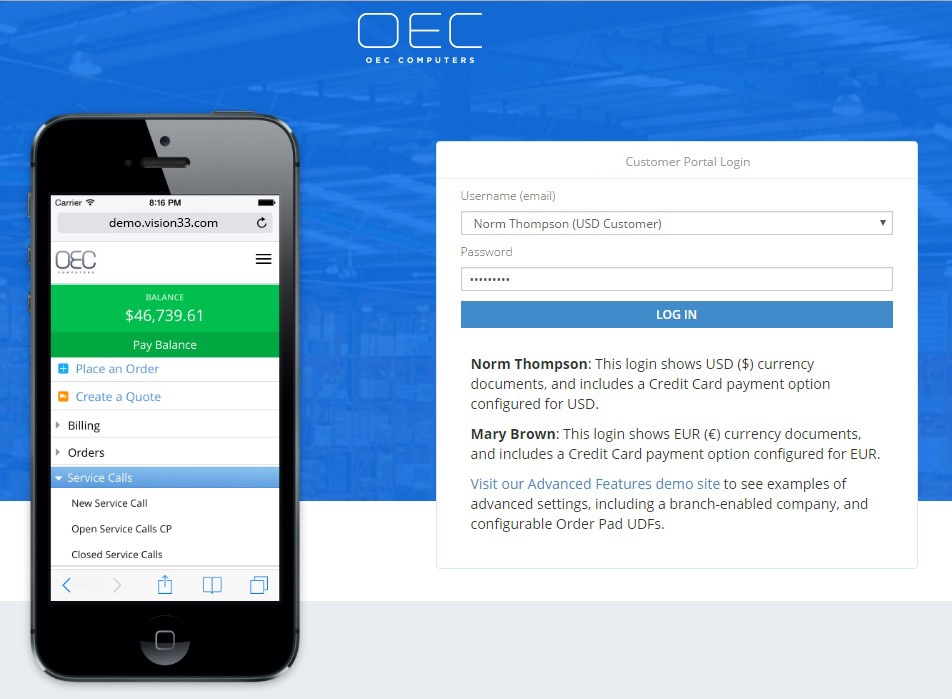 Ease your Workload with Open Communication to Customers.
Customer Portal updates information directly in SAP Business One so the customer always has the most up-to-date information and vice versa. Customer Portal helps businesses increase customer satisfaction by:
Making it easier for customers to pay their bills and ACH payments online
Accepting multi-currency payments and displaying content in different languages
Providing instant access and real-time updates to their account and payment data
Allowing customers to track deliveries and check on open service calls
Allowing customers to review quotes and open invoices at anytime
Making account information accessible beyond traditional business hours
Contact us if you have any additional questions about Employee Portal or if you would like a representative from Vision33 to walk through the test drive with you.